日期
11 月 12 2022 - 01 月 27 2023
已結束!
「擁抱彩虹」- Lucifer x 喵喵Sing雙個展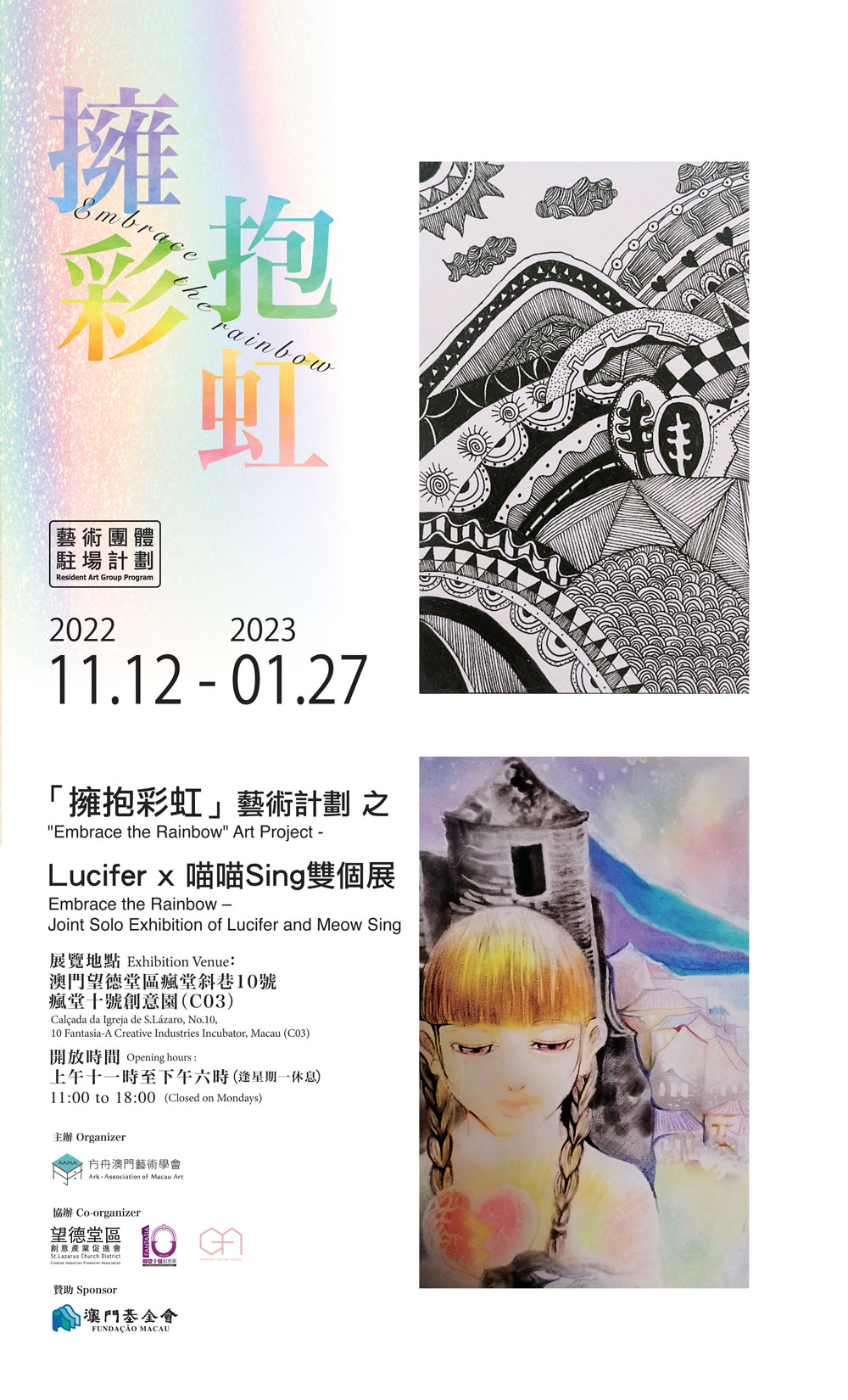 2022駐園計劃|方舟澳門藝術學會
「擁抱彩虹」- Lucifer x 喵喵Sing雙個展
Embrace the Rainbow – Joint Solo Exhibition of Lucifer and Meow Sing
由 AAMA 方舟藝術 方舟澳門藝術學會主辦,望德堂區創意產業促進會、瘋堂十號創意園協辦,澳門基金會贊助的《藝力匯聚之【擁抱・彩虹】(Embrace the Rainbow) 第五場展覽: Lucifer x 喵喵Sing雙個展,將於2022年11月12日至2023年1月27日在瘋堂十號創意園C03展室展出。
是次展覽,喵喵Sing將展出6幅混合媒材作品, 而Lucifer將展出一組裝置(約30件)黑白代針筆小品畫作。兩位年輕藝術家各有自己個人畫畫風格,演繹自己疫情中的日常。一個以黑白描繪心中的彩虹,另一位在色彩世界找到自己的烏托邦。在兩個不同角度裡,讓大家看到人間的真·善·美。
Ark-Association of Macau Art (the "AAMA") takes great pleasure to present its 2022 art program entitled "Art Power Jamming – Embrace the Rainbow sponsored by Macao Foundation, and supported by Creative Industries Promotion Association of St. Lazarus Church District and 10 Fantasia.
The fifth exhibition entitled "Embrace the Rainbow –Joint Solo Exhibition of Lucifer and Meow Sing, will be launched on 12th Nov 2022, showcasing the artworks of two Macau young artists. In this exhibition, Meow Sing will feature 6 artworks with mixed media while Lucifer will present a series of  black and white fine line drawings (approximately 30 pieces).  These two young artists have their unique skills and perspectives on "Rainbow". Rainbow can be black or white? While Meow Sing's world of rainbow is a colorful utopia. Through two different angles, let's discover the truth, goodness and beauty of human beings under this special moment of life.
藝術家介紹:
Lucifer,生於澳門. 從小喜歡繪畫, 做手作, 攝影等等。因此參加了相關藝術、手作相關課程。
繪畫風格多以黑、白為主。媒材方面多為針筆,丙稀,油畫棒,水彩顏料。
主題多以奇怪,天馬行空等的想法為主體。
不喜歡循規蹈矩的想法,更喜歡幻想的奇幻世界,愈奇怪愈好,喜歡接觸更多新事物,對所有事物充滿好奇,無論世事多平凡,在Lucifer筆下的世界,總是充滿奇幻、怪異。
Lucifer,Born in Macau. Interested in painting, handicrafts and photography since early age. For that reason, Lucifer tried to enrich knowledge about art through enrolling related courses.
Black and white are the centerpieces of Lucifer's painting style. Coupled with needle pen, acrylic, oil pastel and watercolor and other mixed media, Lucifer's paintings are characterized with strangeness and imagination.
Never following rules and thinking out of the box, Lucifer aspired to create the wired artworks in unique way. In fond of creating new things and making ordinary things extraordinary under fine line pen to create a special fantastic world.
喵喵Sing,2005年畢業於插畫系學士,創作以粉彩為主及混合材料等媒材。作品風格夢幻童真,熱愛手繪,並視畫畫為不可言喻的珍愛。
Meow Sing, obtained her bachelor degree in Illustration in 2005. She is skillful using pastel and mixed media in her art creation. Meow's style of the works is full of fantasy and playful. Fond of hand-painting, and treating art as an indescribable treasure.
展期:2022年11月12日至2023年1月27日
開放時間:上午11時至下午6時(逢週一休園)
展覽地點:瘋堂十號創意園 (澳門望德堂區瘋堂斜巷 10 號,C03展覽室)
免費入場,歡迎廣大市民蒞臨參觀。